The tried-and-true wrinkle smoother is available at JPO Aesthetics. Botox contains trace amounts of botulinum to temporarily paralyze facial muscles. Botox is commonly used for horizontal forehead lines, frown lines (lines between the eyebrows) and crow's feet that appear in the outer corners of the eyes.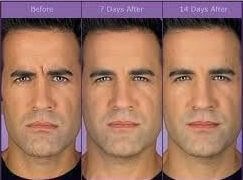 BOTOX® Reviews
"Dr. Olson is truly an artist when it comes to Botox injections. I have gotten Botox from several different doctors over the years, but no one has been able to make me look so young and refreshed without making my face look frozen or altered. Highly recommend!!"
- Z.T. /
Yelp /
Mar 14, 2019
"Dr Olsen is one of many who's hands have been involved in making my face look better..he is by far a greater taken than the rest. He's a true artist with both Botox and fillers. I'm also undergoing some fat burning treatments I look forward to reviewing soon!"
- M.D. /
Yelp /
Jul 22, 2016
"Had the best experience w/ Dr. Olson at JPO Aesthetics. I had a lot of questions about wrinkle relaxers like Botox for heavy lines in my forehead. For my first time experience I was nervous about pain but it was quick and simple! Actually kinda like it. Will be back in 3-4 months."
- C.A. /
Google /
Oct 30, 2020
Previous
Next
Frequently Asked Questions
How Long Before I See Results?
Occasionally, with active musculature, mild results can be seen immediately! However, the more usual onset of action is within 3 to 4 days with up to 2 weeks for maturation of effect.
How Long Will It Last?
Typical duration of action is 3 to 4 months. However, with repeated use, it can sometimes stretch out injections to every
6 to 9 months.
Is Foreign, Counterfeit, or "Fake" Botox a Real Issue?
The US FDA has the strictest guidelines for producing, manufacturing, and promoting safety in the world. Unlicensed sources are rampant. Not only can the drug be ineffectual due to improper storage, but maybe unsafe.
A warning to practices from the FDA as recent as spring 2013: Purchases from such suppliers "may be misbranded, adulterated, counterfeit, contaminated, improperly stored and transported, ineffective, and/or unsafe. Medical practices that purchase and administer illegal and unapproved medications from foreign sources are putting patients' health at risk, as patients may not be getting proper treatment."
Related Procedures